Amnesty International: 2016 was a year of hate, violence and oppression
Comments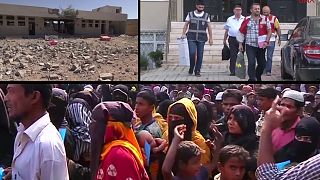 Amnesty International has documented 2016 as a year of hate, violence and oppression, a year of palpable contempt for the suffering of fellow humans.
From the Rohingyas, persecuted in Myanmar, to the wars in Syria and Yemen, the crackdown in Turkey and the election of Trump in the US.
"The world in 2016 became a darker and more
unstable place," says Amnesty International.
In 500 pages Amnesty documents human rights abuses, country by country, region by region. Migrants and European attitudes towards them are particularly detailed. Add to that the rise of populism, the speeches and the consequences.
'Politics of demonisation' breeding division and fear. Read Amnesty International annual report: https://t.co/F8jfmmrx2Apic.twitter.com/8y51aDHjvb

— Amnesty Ireland (@AmnestyIreland) February 22, 2017
Europe appears incapable of managing the human crisis the deal signed with Turkey is an example, many believe it has no legality and is at best a migrant swap.
The agreement sees Greece returns all illegal migrants to Turkey in exchange for taking in Syrian refugees stranded in Turkish refuge camps for redistribution across Europe.
ONCHRSHOWEDTHEDESPERATESITUATION OF ROHINGYASAGAIN.https://t.co/cMqIwL8rNSpic.twitter.com/myT2BvTBNP

— Diplomatic Observer (@DplmtcObserver) February 10, 2017
Europe has shown a distinct lack of unity in face of this human problem some have simply erected barriers, Hungry providing the starkest example of this hand washing attitude to people escaping violence.
A plan to relocate 120,000 refugees across the EU was blocked by Hungary, it refused its allocation.
At the end of 2016 only 6,000 people had left Greece for the rest of the EU, 2,000 relocated to Italy.
Amnesty also turns its unwavering eye on Turkey, the violations of freedom of expression, the post-coup purges, the arrests of 118 journalists and the closure of 184 media companies. Incidents of torture and ill-treatment are well documented…all vigorously denied by Ankara.
Academics and students protest post-coup crackdown in Turkey https://t.co/eZOmmnhFYwpic.twitter.com/VC3zUn0BYL

— euronews (@euronews) February 10, 2017
Amnesty observes that under the guise of protecting citizens from terrorist attacks in countries such as France and Great Britain public freedoms are gradually being eroded.