Poisonous political rhetoric is a danger to the world warns Amnesty International
Comments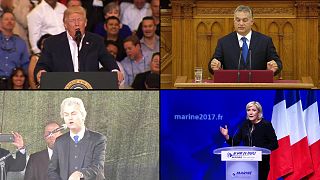 The rise in poisonous political rhetoric is threatening to roll back human rights and creating a more dangerous world, Amnesty International has warned.
Singling out President Trump and the leaders of Hungary, Turkey and the Philippines, it said fear mongering is leading to levels of hate and fear not seen since the 1930s, when Adolf Hitler rose to power.
Speaking in Paris, Salil Shetty, Secretary-General of Amnesty International, said: "It was a year when a poisonous political rhetoric of 'us versus them' surged across the world. Whether it was the xenophobic and sexist rhetoric of President Trump's election campaign, European leaders' assault on the rights of refugees, President Erdogan of Turkey's massive crackdown after the attempted coup there or the so-called war on drugs in the Philippines."
Amnesty's annual report, which covers 159 countries, accused governments of exploiting refugees for political ends. It said the toxic agenda, which scapegoats and dehumanises entire groups, would lead to more attacks on the basis of race, gender, nationality and religion.
Amnesty also cited President Trumps recent travel ban on refugees and immigrants from seven majority Muslim countries and called on people to stand-up and defend human rights.
Full report on www.amnesty.org