UN refugee agency fears mass exodus from Iraqi push on Mosul
Comments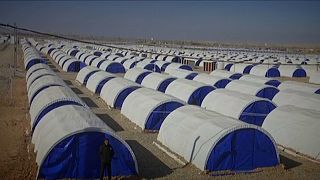 The United Nations says it's growing increasingly concerned over the plight of people fleeing the Iraq army's fight to retake Mosul from Islamic State militants.
The UN's High Commission for Refugees is now concentrating its efforts on constructing camps for those who'll be displaced by the renewed fighting.
"It is estimated that up to 250,000 people could be displaced. Almost 217,000 have fled the hostilities since the start of the offensive on October 17, and around a 160,000 of those are still displaced," explained Matthew Saltmarsh, UNHCR spokesperson. "Others have returned to their homes, in newly retaken areas. But the situation remains fluid and is of course terrifying for those who are trapped or affected by the fighting."
Meanwhile conditions in the densely populated west parts of Mosul are worsening according to witness accounts.
In addition, insecurity and recent suicide attacks in the Iraqi army controlled eastern sector have seen some families, who'd chosen to return home, come back to camps in search of safety.