Russia defends decision to recognise rebel passports in eastern Ukraine
Comments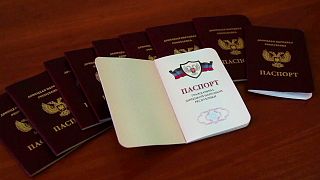 Moscow has defended its decision to recognise tens of thousands of passports issued by rebels in eastern Ukraine.
The RIA news agency quotes the Russian Foreign Ministry as saying the order is temporary.
Russian officials are also quoted as saying the order corresponds with international law.
"International law…does not prohibit the recognition of documents needed to implement the rights and freedoms guarantee by the authorities which are not internationally-recognised," RIA quoted the ministry as saying.
What is the international community saying?
Russia's action has been strongly criticised.
Germany says Russian President Vladimir Putin's decision to temporarily recognise passports issued by rebels in Ukraine violates the Minsk peace agreement.
"The recognition of travel documents issued by the self-declared Donetsk People's Republic undermines the unity of Ukraine and is in stark contradiction to all that was agreed in Minsk and is therefore totally unacceptable," German government spokesman Steffen Seibert said in Berlin.
A foreign ministry spokesman added that the German authorities would not recognise the documents.
When were the passports issued?
Last Saturday.
Vladimir Putin ordered the Russian authorities to temporarily recognise civil registration documents issued in separatist-held areas of eastern Ukraine.
The authorities in Donetsk say they issued passports to more than 48,000 people.
"We are moving in the right direction towards the recognition of our statehood," said Vladimir Krasnoshchokov, the head of the migration service of the self-proclaimed Donetsk People's Republic (DNR)
What has Ukraine said?
Ukraine has criticised the move, calling it a violation of the two-year peace deal.
The signed decree allows passport holders to come to Russia and travel around the country "legitimately", according to the Russian foreign minister.
The decision has also been strongly criticised by Ukraine's president.
Why is this significant?
It is linked to the long-running and bloody territorial dispute in eastern Ukraine.
Ukrainina forces have been fighting Russian-backed separatist rebels in eastern Ukraine since April 2014.
The conflict has killed more than 9,800 people.