Ceasefire holds in eastern Ukraine
Comments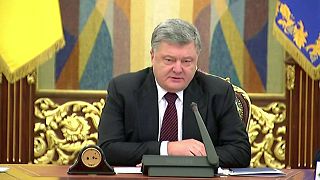 The ceasefire between Ukrainian troops and Russian backed separatists appears to be holding after Germany, France Russia and Ukraine demanded a halt to the shelling and the withdrawal of banned heavy weapons.
Recent violence has refocused international powers on the simmering conflict that has strained relations between Russia and the West.
As volatile conflict in eastern #Ukraine enters 4th year, children urgently need lasting peace https://t.co/MHlczqdn3qUNICEF_UA</a> <a href="https://t.co/mSW9VZ74nz">pic.twitter.com/mSW9VZ74nz</a></p>&mdash; UNICEF (UNICEF) February 18, 2017
A resident in battle-scarred Donetsk said all appeared calm:"They usually shell when some kind of decision is made.Yet, today they have made a decision not to shell. We haven't heard anything today."
Tension is running high across the country, over the weekend police clashed Ukraine nationals in Kyiv demanding an end to trade with the pro-Russian enclaves in the country.
Blockades have been set up to stop the flow of goods.
A group of MPs and veterens of the war against separatists in eastern Ukraine attempted to set up a camp close to the presidential palace.
They argue that the trade helps fuel the conflict with the pro-Russian separatists in violence that has left 10,000 people dead.
Poroshenko fears of a new uprising in the anniversary of Euromaidan https://t.co/aLGPzOZ7gB#news#worldpic.twitter.com/lHIEBXhASH

— RusVersion (@rusversion) February 20, 2017
President Poroshenko believes the protest is counter—productive:"I would like to underline – they are not blocking separatist areas of Donetsk and Luhansk regions they are not creating problems for them. They are blocking Ukraine, they are blocking our fight for restoration of the territorial integrity."
Ukrainian authorities have vowed to restore coal supply from the separatist-held Donbass and warned that a blockade by activists could deprive millions of heating and electricity, hurt the steel industry and cost the country some $2 billion.