Thousands take part in US 'Day Without Immigrants'
Comments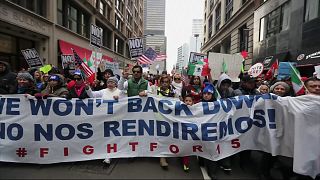 Thousands of people have taken to the streets of the US to rally against President Donald Trump's immigration policies.
Activists organised 'A Day Without Immigrants' to highlight the importance of the 40 million naturalised American citizens.
Across the country, businesses closed for the day and students skipped classes to take part in the demonstrations.
Trump has vowed to clamp down on illegal immigration. During his election campaign, he played on fears of violent crime, promised to build a border wall
between the US and Mexico, and pledged to stop potential terrorists from entering the country.