USA : "Day Without Immigrants" a country-wide strike
Comments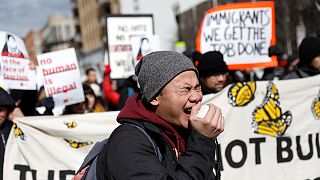 Businesses including restaurants, shops and construction companies have closed their doors in solidarity as thousands of people take to the streets across US cities protesting President Donald Trump's hard stance on immigration.
Called "A Day Without Immigrants", the general strike and boycott is designed to highlight the contributions of immigrants to the United States, without whom strike proponents argue, the country would stand still.
Un Día Sin Inmigrantes #DayWithoutImmigrants strike + protest is TOMORROW, Thu. Feb. 16. How to support + closures: https://t.co/zAtvwx7W1apic.twitter.com/Iso6XnY90G

— Xeni Jardin (@xeni) February 16, 2017
The strike, largely organised and spread by word of mouth on social media using the #DayWithoutImmigrants tag, comes as President Trump has vowed to crackdown on illegal immigration and fight the temporary suspension of his executive order restricting travel to the United States from seven -predominately Muslim-countries.
Last week federal immigration officials conducted a series of raids in which more than 680 illegal immigrants were arrested.
Among those arrested and possibly facing deportation is a young immigrant living in Seattle on the country's western coast, originally sheltered from deportation under an Obama-era law protecting young illegal immigrants brought into the country as children.
In a separate incident, last week's deportation to Mexico of Guadalupe Garcia de Rayos, whose two children are US-citizens sparked protests in Phoenix, Arizona, and caused wide-spread outrage in the United States.
I'm outside ICEgov</a> office in Phoenix, where protesters have surrounded a van taking Guadalupe Garcia de Rayos to Mexico. <a href="https://t.co/NClTpqtyGb">pic.twitter.com/NClTpqtyGb</a></p>— Fernanda Santos (fernandaNYT) February 9, 2017
The Trump-ordered federal immigration raids have caused alarm by immigrant rights' groups who fear mass deportations of legally abiding residents in the country. The Trump administration said 75 percent of those arrested in last week's raids have criminal convictions. Garcia de Rayos plead guilty to ID fraud in 2009 but was given leniency under the Obama administration.
The strike
In US cities from Washington DC in the east to Los Angeles in the west, from Austin, Texas in the south to Minneapolis in the north, thousands of businesses have closed their doors to support those going on strike on Thursday.
According to the US Department of Labor Statistics, foreign-born workers in 2015 comprised 16.7 percent of the US workforce. Hispanics, a US demographic distinction for people originating from Latin America, made up nearly 49 percent of the country's foreign-born workforce.
That same year, there were 7.1 million restaurant workers who were immigrants, compared to 5.1 million who were born in the United States. Pew Research in 2014 found nearly 1.1 million people working in the restaurant industry were undocumented, reported KTLA in Los Angeles.
"We're not criminals, we're workers."

A restaurant owner from Philly explains why he is proudly supporting a #DayWithoutImmigrants: pic.twitter.com/cGRE1lMfFS

— Fusion (@Fusion) February 16, 2017
Most dependent on foreign labour are construction companies and restaurants, whose kitchen and waiting staff, in many cases, are immigrants.
Among those participating in the strike action is Spanish-born celebrity chef Jose Andres. Andres is entangled in a legal fight against President Trump over a failed restaurant bid at one of Trump's properties.
"People that never missed one day of work are telling you they don't want to work on Thursday," Andres told Reuters. "They want to say: 'Here we are,' by not showing up. The least I could do was to say: 'Ok, we stand by you.'"
Andres said the strike movement builds on a feeling of increased hostility towards immigrants since President Trump took office.
"You have millions of Latinos, millions of immigrants, that somehow feel under attack," Andres said. "They feel like they're being pushed aside. They want to be part of the American dream."
In New York, the owners of the Blue Ribbon restaurant chain say they will also close several of their locations in solidarity with those striking, despite the economic costs.
"It's really a show of support for our staff, and as a team and a family as a whole," said co-owner Eric Bromberg, to Reuters.
Reactions
On social media, however, the reaction to Thursday's collective walk-out is more nuanced with many people, including legal immigrants in the United States, feeling the movement's energy is misdirected.
We don't want all immigrants to go. Just illegal ones. The left replaced this important distinction with hysterics. #DayWithoutImmigrants

— Leah the Boss (@LeahRBoss) February 16, 2017
Some have deliberately chosen to show up at their place of business out of a sense of obligation.
I am a legal immigrant. I will proudly go to work tomorrow to serve my community. Grateful to my new home, the USA#DayWithoutImmigrants

— Mere Observer (@rbd1982) February 16, 2017
While others note the strike is not without a certain sense of irony given the country's long, and often contentious, history of immigration stretching as far back in time to the country's first European colonists.
We support the #DayWithoutImmigrantspic.twitter.com/DtXmDyWQcE

— Feminist Collective (@WPUFC) February 16, 2017
Strikes and other demonstrations
The "A Day Without Immigrants" strike comes as Donald Trump's presidency sparked several marches and demonstrations across the country.
The day after Trump took office, women in the United States marched on Washington DC in protest against Trump's comments on women.
That demonstration was followed by mass demonstrations at US airports when Trump signed his executive order against travel from seven Muslim countries.
On March 8, thousands of women plan a similar strike dubbed "A Day Without A Woman."
The science community in the United States is also planning to march on Washington in protest against Donald Trump on April 22.