Referendum could force Budapest to drop 2024 Olympic bid
Comments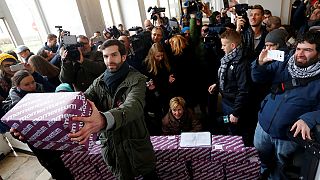 The Hungarian capital Budapest could decide as soon as next week whether to drop its bid to hold the 2024 Olympics after a petition with over 266,000 signatures opposing the games was handed in. That's enough to force a referendum.
Hamburg, Rome and Boston have already abandoned their bids. That's been blamed on the cost of hosting such an event.
A recent opinion poll suggests that the bid has grown increasingly unpopular among Hungarians.
The president of the Momentum movement behind the petition said: "People have to be given a chance to express their opinion and the best way to do this is through a referendum. We strongly ask the prime minister and the mayor of Budapest in the name of more than a quarter of a million people to allow this referendum to take place.''
Budapest's Election Office must now decide whether enough valid signatures – 10 percent of the capital's 1.4 million voters – have been collected to call a referendum.
Budapest Mayor Istvan Tarlos has said if a vote on holding the Olympics is called, he would ''seriously consider'' a proposal to withdraw the bid.
If Budapest does pull out, it would leave only Paris and Los Angeles in the race to host the 2024 summer games.