Hirscher seals giant slalom world title, as low-flying plane slices camera cable
Comments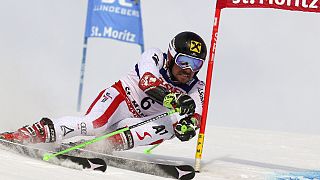 Austria's Marcel Hirscher won giant slalom gold at the Alpine skiing world championships on Friday after a delay caused by a Swiss air force plane slicing through an overhead television camera cable.
The incident during an air display before the second run sent the camera crashing to the snow in the finish area, without hitting anyone, and led to a 30-minute delay due to the chairlift being halted for safety reasons.
The plane landed safely at a nearby airport.
Hirscher, who led team mate Roland Leitinger to an Austrian one-two with Norway's Leif Kristian Haugen taking the bronze, has had previous experience of objects falling out of the sky during a ski race.
In 2015 he criticized the use of drones to film races after one of them crashed and almost hit him while he was competing at Madonna di Campiglio in the Italian Alps.
Friday's victory ended his long wait for a first giant slalom gold after the five times overall World Cup champion took silver in 2013 and 2015.
The gold was his fifth at a world championships, and third in an individual event.
"It's an unbelievable feeling after one of the toughest races we've had this season so far," the 27-year old said in a podium interview. "I am very thankful for this.
"The GS was the gold medal that I had yet to win so today's race had great meaning for me."
Olympic silver medallist Hirscher will go into Sunday's slalom, the final event of the championships, as strong favourite for a golden double after a pair of superb runs saw him edge Leitinger by 0.25 seconds.
Also In Sports News
Leitinger climbed from sixth position after the first run to capture the silver medal, the first of his career. It was also a first podium appearance for Haugen, who had been seventh after the opening leg.
"It is my first podium and to get it in the world Championships is amazing," said the Norwegian. "I've been close to the top three the last few seasons but couldn't crack it, so it's great to do it today."