Car bomb in Sadr City brings internal Shi'ite tensions back to the boil
Comments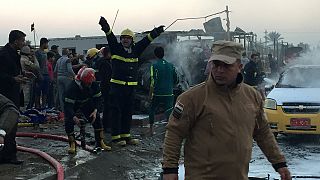 A suicide car bomb has exploded in Sadr City, a Shi'ite suburb in Baghdad, killing at least 15 and injuring scores.
The deadly blast follows a weekend of bloody protest in the Iraqi capital after five demonstrators and a police officer were killed as authorities clashed with supporters of influential cleric Moqtada al-Sadr.
Supporters of #Iraqi#Shia cleric Moqtada al-Sadr take part in a symbolic funeral for the protesters killed in Saturday's prots. in #Baghdadpic.twitter.com/6M6EhLKHYW

—

NRT

English (@NRT_English) February 14, 2017
The bloodshed marks the resumption of a Shi'ite power struggle between al-Sadr and former prime minister Nuri al-Maliki as elections loom.
#Baghdad#Iraq reported casualties among protesters, mostly followers of Shia cleric Moqtada al-Sadr, as authorities use force pic.twitter.com/cKMpbqdlBC

— Rafid Jaboori (@RafidFJ) February 11, 2017
Supporters of al-Maliki and al-Sadr have taken time out from their mutual distrust to concentrate on defeating ISIL in Iraq.
Nuri al-#Maliki making comeback as #Iraq's most powerful manhttps://t.co/R96YutLlbHpic.twitter.com/Ns5waH1Kgg

— Kurd Net (@ekurd_net) October 12, 2016
The pro-Iranian al-Maliki is seen as a possible kingmaker or even the next prime minister.
He led the country from 2006 to 2014 and has been accused of sectarianism by Sunni Iraqis and western analysts.
Iran will be looking for a sympathetic ear in Baghdad after Donald Trump slapped
new sanctions on the Islamic Republic following its missile test last month.