Tunisia and Germany discuss ways to speed up deportation of illegal migrants
Comments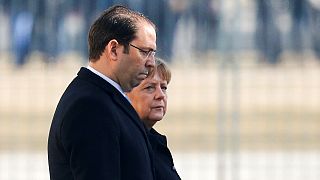 Tunisia's prime minister has rejected criticism his country was too slow to take back failed asylum seekers from Europe.
Youssef Chahed's comments came during a visit to Germany.
On Tuesday Chahed and Chancellor Angela Merkel paid their respects at the site of the Berlin Christmas market attack where Anis Amri killed 12 people with a stolen truck in December. The Tunisian national was on a watch list, but shortcomings in the system delayed his deportation.
Speaking to Bild newspaper, the Tunisian PM insisted cooperation with Germany on asylum seekers was working well.
But after talks, the two leaders announced plans to speed up the deportation process.
During a joint press conference Chancellor Angela Merkel said: ''Whether it is a potential offender or not people who don't have a residency permit to live in Germany after their case has been dealt with by a court or at the central bureau of migration must be deported to Tunisia. We have an agreement on that."
Germany wants to voluntarily deport around 1500 illegal Tunisian migrants. Until now, the north african country has rejected attempts to set up asylum centres there to ease the burden on Europe.