Northern Californian residents hope Oroville dam holds
Comments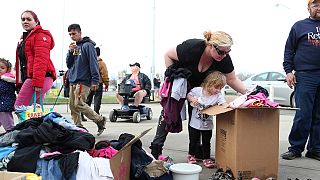 No end in sight to the chaos in northern California after the rushed Sunday evacuation of nearly 200,000 people downstream of the Lake Oroville dam. The dam's two excess water slipways are damaged and at risk of failure.
Tens of thousands of people face another night in temporary shelters, after hours spent in panicked traffic jams, but better off here than in their homes, which could be hit by a three-metre wave if the dam fails.
#LakeOroville Spillway between 11am & 1pm Sunday. Courtesy: Luke Buell pic.twitter.com/PF3w9jyKd0

— Cecile Juliette

KHSL

(@CecileJuliette) 13 février 2017
Engineers say water levels dropped on Monday relieving some of the pressure, but aim to lower the lake level by some 17 metres to reduce spillover before more rain arrives mid-week, and spring snowmelt begins.
"I don't know how safe it really is. That's my issue. I just don't know now that I see everything going on. There's a big possibility that everything might be gone when we get back," said Oroville resident Joelene Hull.
"It was a lot of traffic. It was chaos. It was a lot of accidents. It was just like people weren't paying attention to other people," said Robert Brabant, another Oroville resident.
The town of Oroville itself is a ghost town, and Governor Jerry Brown has written to the Trump administration asking for federal assistance.
California's exceptionally wet winter ends four years of drought, which may have weakened subsoil integrity before excess water triggered catastrophic erosion, underming the slipways.
Equally, the crisis reflects the recent lack of investment in America's infrastructure, something President Donald Trump has promised to spend billions of dollars fixing. However some in California point to the Governor's failure to include dam repairs and more water storage facilities in a 7.5 billion dollar water bond issued in 2014. Warnings about the state of the Lake Oroville dam were published as long ago as 2005.
Editorial: The bill comes due for neglected infrastructure. With cartoon by Tom Meyer, who nails it. https://t.co/MCCdY0DLh3pic.twitter.com/aW9jRyvRTv

— David Little (@ER_DavidLittle) 14 février 2017