Russia intervenes to stop Syrian army and rebels fighting
Comments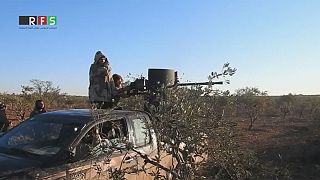 Russia has reportedly intervened to halt fighting between the Syrian army and Turkish backed FSA rebels in northern Syria.
The two sides are said to have confronted each other in a push to oust ISIL out of the city of al-Bab, the extremist group's last major stronghold in Aleppo province.
The clash has raised concerns that parallel offensives to take the city could ignite a new wave of fighting between government forces and Syrian rebels.
While the Syrian army has mounted its own rapid advance on al-Bab in recent weeks, Turkey and its rebel allies have also escalated attacks on the ISIL bastion, seizing the outskirts of the city.
The Turkish military said it hit 11 targets in the Syrian town and killed 23 ISIL militants on Thursday, the same day three of its soldiers were killed in a Russian airstrike.
Addressing the media, Turkey's Prime Minister Binali Yildirim said: "He (President Putin) has insisted this was an accident and they are sorry. We will co-ordinate better and take all the necessary measures to prevent similar incidents.
But despite that diplomacy, Turkey's military has refuted claims that it mistakenly told Russian jets to bomb the building where the three Turkish soldiers were positioned.
That came after the Kremlin said the airstrikes had been launched based on coordinates provided by the Turkish army.