Italy and Tunisia to tackle terrorism and migration
Comments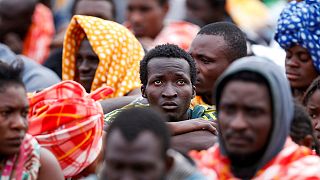 Italian leaders welcomed Tunisian President Beji Caid Essebsi in Rome on Wednesday (8th February) to discuss collaboration on a variety of issues including the fight against terrorism and migrant trafficking.
The two countries are expected to sign accords on Thursday (9th February). Last week Rome took similar steps with Libya, strengthening cooperation through a memorandum of understanding .
The Tunisian premier announced: "Europe needs a strategic, integrated, global project together with all South Mediterranean countries in order to gain better control, and hopefully peace and security will return to all".
Along with Greece, Italy is at the frontline of the migrant crisis in Europe. An estimated half a million people have arrived in the country since 2013.
Ahead of the next G7 summit, Italy's President Mattarella reaffirmed the two countries' "renewed friendship" and their commitment to bringing political stability to Libya.
#Tunisia President Essebsi today in Rome: '#Italy is essential to fix #Libya, given the historical ties binding the two countries.' pic.twitter.com/dCvQrpIUZf

— James Wheeler (@wheelertweets) February 8, 2017
There are six accords to be signed which will also touch on other issues from tourism to the environment.