World's biggest yacht is shipshape and 'nearly' ready to sail
Comments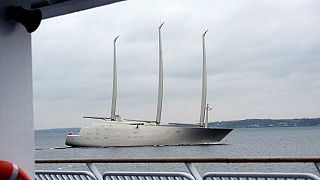 A Russian tycoon is about to take delivery of the world's biggest yacht. The 420 million euro vessel is 144 metres long with three huge 90 metre-high masts.
Nice footage of the US$ 400 million Sailing Yacht #A (owned by #billionaire Andrey Melnichenko) leaving the shipyard https://t.co/WFyaLoUg1xpic.twitter.com/EFRUTQuCLm

— SuperYachtFan (@Superyachtfan) February 6, 2017
It belongs to billionaire Andrey Igorevich Melnichenko and is currently in Danish waters after leaving the German shipyard in Kiel where it was built. It will be handed over to its wealthy owner once it finishes its sea trials and internal fit.
The superyacht imaginatively named 'Sailing Yacht A' is to be equipped with bomb-proof glass, helipad, eight storeys with teak floors and an observatory of glass below sea level. In addition, the ship has seven luxury suites, a pool and a nightclub.
Sailing Yacht A left the Nobiskrug shipyard yesterday for further sea trials and interior outfitting. Read more here:https://t.co/5Wmtbq22cxpic.twitter.com/LPDj4DiAnN

— SuperYacht Times (@sytreports) February 6, 2017