Parliament gets Brexit vote, but Britain gets Brexit
Comments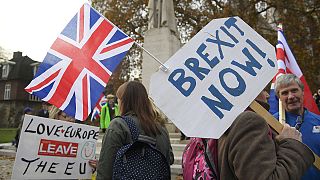 Britain will not engage in further talks with the EU if parliament rejects the Brexit deal.
The House of Commons debated a law that gives Prime Minister Theresa May the power to begin Brexit negotiations with the EU.
We are looking forward to serving our wine at the Houses of Parliament this evening to showcase English wine. pic.twitter.com/6klrKaswDi

— Chapel Down Wines (@ChapelDownWines) February 6, 2017
David Jones is a UK Brexit Minister and echoed May's no deal for Britain is better than a bad deal for Britain can't think of a greater signal of weakness than for this House to send the Government back to the European Union and to say we want to negotiate further. I think that that would be, I think that would be seized upon as a sign of weakness."
In a close vote seven Tories defied the PM and the government won 326 votes to 293.
If Britain fails to reach a deal with the EU then the country would return to the World Trade Organisation rules and risk potential tariffs on exports and imports.