Netanyahu calls on Britain to join new sanctions against Iran
Comments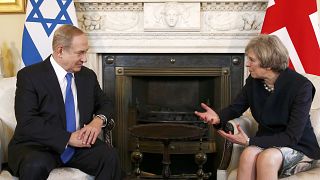 Israel's Prime Minister Benjamin Netanyahu has been received at Downing Street for his first face-to-face meeting with his British counterpart.
There was a mix-up between officials and instead of Theresa May being in place to welcome her guest, Netanyahu was briefly left standing on the doorstep. The planned photo opportunity was missed.
Once inside, Netanyahu called on May to back renewed sanctions against Iran after the country test-fired a ballistic missile.
"Iran seeks to annihilate us, it says so openly. It seeks to conquer the Middle East," he said to his host in front of the TV cameras. "It threatens Europe, it threatens the West, it threatens the world. And it offers provocation after provocation, that is why I welcome President Trump's insistence on sanctions against Iran, I think other nations should follow suit."
Britain however backs the Iran nuclear deal.
Downing Street said May would restate the UK's opposition to more Jewish settlement building in the West Bank – but before their behind-closed-doors talks, the prime minister was being diplomatic.
"I think there is much more we can do together looking to the future and I'm sure we are going to be talking about how we can build our relationship. But also talk about some issues in the region, Syria and Iran and the whole question of the future in the Middle East and certainly we remain committed to a two-state solution," she said.
The UK recently backed a UN Security Council resolution denouncing Israeli settlements in Palestinian territory as a "flagrant violation" of international law and a "major obstacle" to peace.
Both countries are trying to find their feet given uncertainties over the new administration in the White House.