France: Emmanuel Macron ramps up his presidential bid in Lyon
Comments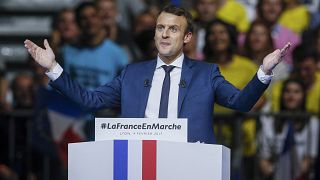 The tables are turning in the French presidential race, if the latest opinion polls are to be believed.
Leader of the En Marche movement, Emmanuel Macron, ramped up his campaign at an event in Lyon.
Amid controversy on the right wing, polls alternate between a victory for him and far-right National Front leader Marine Le Pen.
Macron honed in on anti-Trump, anti-populist sentiment.
"Let me reassure you, there will be no wall in my programme. But we have European borders, and that is our real security," he told the 8,000-10,000-strong crowd.
Macron, a former Economy Minister was previously a protégé of France's Socialist president, François Hollande.
The centrist, pro-Europe contender has sought to distance himself from the party in the run-up to the two-round election in April and May, 2017.