Fillon vows to hold on as presidential contender despite scandal
Comments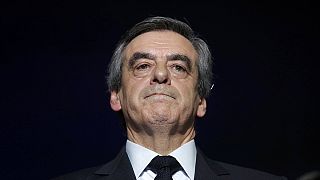 The French presidential candidate on the right appears before a rally of supporters, but even some in his own party are asking how long he can survive.
Francois Fillon is angrily denying claims in the media that he paid his wife hundreds of thousands of euros in publicly-funded wages for work she allegedly never did.
Wife of French presidential contender caught up in "fake job" scandal said in 2007: 'I've never been his assistant' https://t.co/XhkGX8NQFi

— Seamus Kearney (@seamuskearney_) February 2, 2017
"I want justice to be done quickly," Fillon told his supporters.
"But I cannot deny that I'm really angry. I'm in a cold rage against these hounds, who are pleased with their demolition work."
But adding to the scandal, video footage broadcast on French television on Thursday night showed Fillon's wife Penelope telling Britain's Daily Telegraph that she never actually worked as her husband's assistant.
A lawyer for Welsh-born Penelope says the comments have been taken out of context.
Until the scandal broke Fillon had been seen as a presidential favourite, but the affair may now benefit independent candidate Emmanuel Macron, an ex-economy minister.
The far-right leader Marine Le Pen is scoring well in the polls, but is also angrily rejecting claims of misspending European Parliament funding.
Scuffles broke out on Wednesday when a French reporter tried to ask her questions about it.
Watch video of French journalist being roughed up by security guards at Marine Le Pen appearance https://t.co/9PWIS4s6gg

— Seamus Kearney (@seamuskearney_) February 2, 2017
French media have also reported that investigators have widened their inquiries to include two of the Fillons' children, who were also paid publicly-funded wages by their father.
MPs in France are allowed to hire family members but what is damaging is the accusation that huge amounts of money were paid for allegedly no real work.