Iraqis erase traces of ISIL in east Mosul with a coat of paint
Comments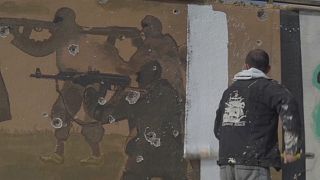 The signs of two and half years of so-called Islamic State rule remain, even if the militants have retreated from eastern Mosul. Murals depicting ISIL fighters were painted on walls across the city.
Iraqis have begun to erase the traces of the extremists' reign of terror, beginning with a coat of paint.
"It's a very nice and beautiful day, it's the day that we're getting rid of these horrific and barbaric images. God be praised for everything, we are happy and we are done with them. And hopefully things will get better day by day, from a beautiful day to even more beautiful one, with God's permission. And life will be normal and beautiful again," said one Mosul resident as he painted over ISIL murals.
Signs of normal life are blossoming throughout eastern Mosul, with schools reopening, weddings being held and volunteers clearing the rubble to rebuild their community.
Smoke on the horizon is a reminder that fight to liberate the rest of the city rages on.