Trump sued by Iraqis detained at JFK under anti-Muslim travel ban
Comments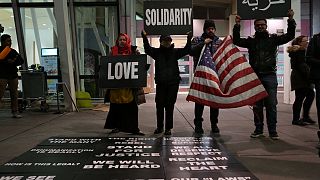 Two Iraqis detained at New York's JFK airport have filed a lawsuit against President Donald Trump and the US government.
The men, with links to US military, were legally allowed to enter the United States, but were held under Trump's executive order to ban travel from seven Muslim-majority nations.
Trump's blunt and counterproductive travel ban https://t.co/YN67bP23re via BV</a> <a href="https://t.co/TYuWgDTJ1h">pic.twitter.com/TYuWgDTJ1h</a></p>— Bloomberg (business) January 28, 2017
Lawyers for the men believe that Trump's order violates their Fifth Amendment.
They are not alone.
Jerry Lewis Nadler is a representative from New York's 10th district:
"There are also ten other people, whose status we have much less information about, but who are also presumed they got on airplanes before the executive order was issued, who are here now, and the attorneys have not worked with them, so we don't know anything more about them or their status."
Protesters have gathered at JFK to protest Trump's travel ban (Photo by AlexBrookLynn</a>) <a href="https://t.co/MpDnBIfpPF">pic.twitter.com/MpDnBIfpPF</a></p>— The Daily Beast (thedailybeast) January 28, 2017
The Department of Homeland Security said that those already on flights to the US would be detained and sent back to their country.
For those escaping conflict and living a precarious life in refugee camps Trump's order is a hammer blow to hope.
"It is unfair, where shall we go? We escaped the war and bombing, sheltering in a safe place, and at the end he Trump is rejecting us. Where shall we go?" said a Syrian man in a refugee camp in Lebanon.
Trump has banned 134 million people from entering the US for the next 90 days.
The nations targeted by travel ban have one thing in common: No Trump business interests. https://t.co/gEKf1xSFRW

— Dan Zak (@MrDanZak) January 28, 2017
The executive order bars all people hailing from Iraq, Syria, Iran, Libya, Somalia, Sudan and Yemen.