Trump signs ''extreme vetting'' executive order banning Syria refugees from entering the US indefinitely
Comments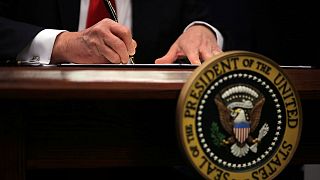 With a simple stroke of a pen, President Donald Trump signed an ''extreme vetting'' executive order on Friday banning Syrian refugees from entering the US indefinitely.
The wide-ranging action also suspended the US refugee programme for four months and imposed strict controls on travellers from several mainly Muslim countries.
Human rights groups have condemned the move.
In California, there were mixed views over the order.
One man who said he came to the US as a Palestinian refugee said: "The Syrian families are coming to the States because of the foreign policy overseas. Unfortunately he doesn't want them and unfortunately they got some people that support it because they've never been through hard times or depression or war"
Another man said: "I'm for increased security, I'm for vetting processes that are legit. What I'm against is any racial profiling. I'm against judging based on the background"
Trump, who fulfills a key election promise, says the order will keep Americans safe from Islamic terrorists.
Earlier, in New York, around 100 demonstrators formed a human chain outside the Federal Building to voice their opposition to the move.