Trump's refugee and travel suspension met wıth global outcry
Comments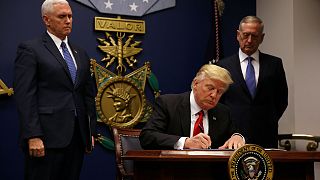 With a stroke of a pen, Donald Trump signed an executive order on Friday suspending all new refugee arrivals to the US for four months.
Syrian refugees were banned indefinitely until further notice. The president's action also barred travellers from several mainly Muslim countries for 90 days.
In Cairo a number of Iranians and a Yemeni were prevented from boarding a flight to New York on Saturday. Qatar Airways also advised US bound passengers to only travel with a Green Card or diplomatic visa. It later emerged Green Card holders were also included in the ban.
Human rights groups have condemned Trump's order.
"At a time when we have a global refugee crisis, President Trump has bared all Syrian refugees and has put a hold on the resettlement of refugees in the United States. This executive order is staggering in its scope, deeply shocking and should be reversed immediately." said Audrey Gaughran, Amnesty International's Director of Global Issues.
Elsewhere, The International Organization for Migration was less vocal in its criticism of Trump's executive measure and called on other countries to fill the void left by the US.
IOM spokesman Leonard Doyle said: "Of course this is going to affect the resettlement of people who have already been assessed as being people in danger. But it is an opportunity now for other countries to step it up. So rather than criticise the (US) administration, let other countries step forward and be as generous as The United States has been for decades."
In one refugee camp in Lebanon, a Syrian man living in limbo with his family reacted to Trump's order.
"It is unfair, where are we going to go? We escaped the war and bombing, sheltering in a safe place, and finally he (US President Donald Trump) is refusing us. Where shall we go?''
Trump has insisted his measure will protect Americans from Islamic terrorism.