Germany deports failed asylum seekers
Comments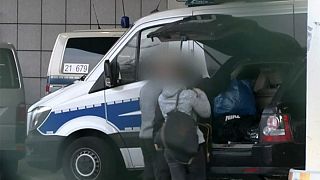 A group of failed asylum seekers have been deported from Germany's Frankfurt Airport back to Afghanistan.
Among the 26 single men were said to have been several convicted criminals.
It was the second collective deportation of Afghans after a mid December charter flight returned 34 others.
Inside the airport more than 100 people demonstrated against the move.
Of an estimated 250,000 Afghans living in Germany , about 11,900 are being told they have to leave as part of an agreement with Kabul.
Although the flow of migrants into to Germany has dropped since the so-called Balkan route was closed, some 20 to 30 human traffickers are still being picked up each month at the border with Austria.
Last Spring Germany introduced temporary border checks to halt the record flows of migrants fleeing Syria, Iraq and elsewhere.