Day of mourning in Hungary for school coach crash victims
Comments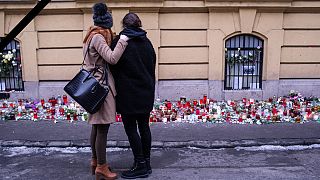 The flag flew at half mast over the parliament building in Budapest on Monday, as Hungary observed a day of mourning for the victims of Friday's school coach disaster.
János Áder, the president of Hungary, Viktor Orbán, the prime minister and László Kövér, president of the Hungarian Parliament, all attended a commemoration outside the building in the capital.
The party from Pal Szinyei-Merse secondary school in Budapest was decimated as 16 people, mostly teenagers, were killed on their way back from a ski trip in France. Their coach crashed late at night and burst into flames near Verona.
Euronews visited Trefort Ágoston High School, which is located near the school where the victims came from. Most students and teachers know someone from their neighbouring institution.
"We have to deal with this with sensitivity. Probably there will be some children who are not that much affected and they are not shocked, but basically we have to deal with those who feel involved and touched by what had happened", said Zoltán Csapodi, director of Trefort Ágoston school.
At the Pal Szinyei-Merse secondary school a memorial has been set up outside. Many floral tributes were laid out and candles burned by a wall.
"There are people who come alone with one flower, and there are students who come in small groups to light a candle in memory of the victims," euronews correspondent Andrea Hajagos reported from the school.
One teacher is said to have saved many passengers while suffering severe burns himself. His son and daughter died in the accident.
As well as those who died, more than two dozen were injured in the crash. Most were discharged from hospital in Italy over the weekend.
Italian authorities have taken DNA samples from some of the parents who arrived in Verona to help identify the victims.
Investigators are keeping an open mind as to the cause, including mechanical failure and the possibility that the driver fell asleep at the wheel.