Davos 2017: shifting sands in geopolitics and economics
Comments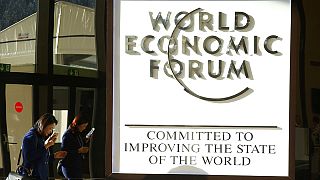 PRODUCED BY SARAHCHAPPELLANDISABELLEKUMAR
Donald Trump could end up being the entrepreneur's entrepreneur
Geopolitical Outlook 2017
Is globalisation in retreat? Is Russia going to be the United States' new special relationship? Is the future of the European Union (EU) – or of NATO even – in jeopardy?
"These are some of the big questions that have been swirling around the Davos forum this year," Euronews correspondent Sarah Chappell reported from the World Economic Form.
"With so many geopolitical shifts taking place, the answers are impossible to predict – but some are deeply concerned about what 2017 might bring."
The twentieth century ended in 2017. Nobody knows what era we're in now https://t.co/TwgqJYEawmpic.twitter.com/wDpMcdQIGf

— World Economic Forum (@Davos) January 26, 2017
Dr. Robin Niblett, director of international affairs think tank Chatham House, said that his number one fear for the world in 2017 is a ratcheting up of tension between the US and China.
Niblett stressed that there has long been a faction in Congress itching for a stronger US stance over China's maritime claims in the South China Sea, telling Euronews: "(US President) Donald Trump has pointed out that China is one of the main threats to America.
"If America pushes back militarily (in the South China Sea), as has been stated by some, then China, which feels insecure internally, tries to push back – you could have an accidental spark-up of some conflict between the two of them. That would have devastating implications economically, as well as geopolitically."
Talking #Brexit, #Trump & shifting geopolitics w/ Chatham House head Robin Niblett earlier today at #Davos#WEF17euronews</a> <a href="https://t.co/6QqkQqzA98">pic.twitter.com/6QqkQqzA98</a></p>&mdash; Sarah Chappell (SLeandaC) January 19, 2017
The World Economic Forum (WEF) itself believes that the top geopolitical risk is that we are moving into "a truly multi-polar world," and has warned of the multiple routes to conflict in today's world.
"The global challenges of nonproliferation, cyber security – these things are not going to go away," WEF Managing Director Lee Howell told Euronews.
"Maybe we don't have the mechanisms at the moment – and it's even harder to get people round the table in this new multi-polar environment – but, nevertheless, you (we) have to make the effort because these are true global risks."
With so much uncertainty, few Davos delegates this year dared to predict how far the tectonic plates of geopolitics might move during 2017 – and where they could end up.
#Davos#WEF17 – #WEF Managing Director Lee Howell talks to euronews</a> about the forum&#39;s themes and global challenges this yr <a href="https://t.co/8EFPG5JTLE">pic.twitter.com/8EFPG5JTLE</a></p>&mdash; Sarah Chappell (SLeandaC) January 17, 2017
'Everybody has an interest in globalisation' – Carlos Ghosn Interview
The Chairman and CEO of Renault-Nissan is a Davos regular and always has keen insight on the road ahead. As always, it was great to catch up with Carlos Ghosn.
Isabelle Kumar, Euronews: "Let's start with the fun stuff. What are you most excited about this year, when it comes to new technologies."
Carlos Ghosn, CEO, Renault-Nissan Alliance: "Well, a lots of things, a lot of things. Obviously this year is going to be about mass marketing new technology on electric cars, which are really, as you know, getting to become mainstream. Then a lot of steps are gonna be done in terms of autonomous driving and driver-less cars and also in term of connectivity: connectivity of the cars and connectivity of the services. A lot of things are going to happen in 2017, so I am really looking forward to it because it this is a transformation of our product that is taking place in front of us."
Isabelle Kumar: "So there are also big changes on the horizon as you're well aware. We're seeing a potential pullback from globalisation, it is something we're hearing about a lot here in Davos. How concerned are you about that?"
Carlos Ghosn: "Well, obviously there is a reason for concern even though I am not very pessimistic about it, because I think that at the end of the day – because everybody has an interest in globalisation. I do not think, if there is any pull back that is not going to go very far. It is going to be a more a correction of some excesses, it is more a better marketing of the benefits of the globalisation are going to take place, but frankly I am not expecting this pullback – if there is any – to be dramatic, or to be really a kind of negation of globalisation. Globalisation is going to continue. In different shapes, in different forms, limiting excesses, correcting some, maybe perceptions, but it is going to continue."
Great insight from Carlos Ghosn at WEF17 on Trump, globalisation, Europe and of course new technologies! Soon on euronews</a> <a href="https://t.co/mBBVSK8Rw6">pic.twitter.com/mBBVSK8Rw6</a></p>&mdash; Isabelle Kumar (Isabelle_kumar) January 19, 2017
Isabelle Kumar: "What about (US President) Donald Trump then, how do you think he is going to affect the car industry, because he has been quite vocal in that respect."
Carlos Ghosn: "Yes, but I think at the same time, I think there is a lot of preemptive – you know – speculation, about the position of the next administration, the president-elect has said two things which are very clear: America first, jobs in the United States. That's the message: 'as long as you are operating in the United States, and giving us the sensation that America comes first and you are creating enough jobs in the United States, we're fine with this'. So, so far car makers have adapted their strategy in function of the existing agreement.
"The existing agreement is NAFTA (North American Free Trade Agreement). NAFTA is going to change. We do not know, but probably they are going to change NAFTA. They are going to come into re-negotiating some of the agreements. But I do not think anybody wants to say: 'OK, well, no more free trade!' No, it is (will be) a different free trade – maybe taking more in consideration the interest of the main economy in NAFTA. And we are fine with this. We will adapt to this situation."
Isabelle Kumar: "Where does Europe fit into all of this, because obviously Europe is entering even more uncertain times."
Carlos Ghosn: "Well, obviously Europe's uncertainty is coming more for the multiplication of elections in Europe, important elections in Europe in 2017, that is where the uncertainty is coming from. But from the economic point of view, I think Europe is gonna have a good year. Not a flamboyant growth, it is going to be a reasonable growth, a moderate growth, waiting for the elections to take place – and hopefully with a 2018 which will make a more clear steering on the economy."
Global Economy in 2017
'Too slow for too long' was the International Monetary Fund's (IMF) verdict on the global economy in mid-2016. Modest gains in both advanced economies and emerging markets have kept growth at around 3 percent for several years.
"Here at the World Economic Forum, there's hope that 2017 will be the year that the global economy comes out of the doldrums and also an understanding that policy making in the United States will be critical," Sarah Chappell reported from Davos.
US President Donald Trump has vowed to cut taxes and slash regulation.
Jeff Schumacher, CEO of investment firm BCG Digital Ventures, explained that although he is not a fan of some of Trump's principles, he is very optimistic about what the new presidency is likely to mean for business.
"He (Trump) could end up being the entrepreneur's entrepreneur," Schumacher told Euronews.
"I think if you see the corporate tax getting reduced and less regulation, I think you'll see a lot of capital flow into the US. That kind of capital come (capital flow) and that kind of growth – the US, just by the size of its market and the size of its economy, will bring the global economy with it."
Despite #political uncertainties, upbeat 2017-18 #economic outlook: real GDP growth of 2.8 in 2017, 3.1 in 2018. N_Behravesh</a> <a href="https://twitter.com/hashtag/IHSEconomics?src=hash">#IHSEconomics</a> <a href="https://t.co/P0ZEHMzI9N">pic.twitter.com/P0ZEHMzI9N</a></p>&mdash; IHS news (IHS_news) January 17, 2017
But just as the US could rev up the engine for global growth, it could put the brakes on it too.
Some of Donald Trump's protectionist rhetoric – if put into action – could spell serious trouble, as Nariman Behravesh, Chief Economist at IHS, explained.
"If we have pro-growth populism (US policies), it's great. That's what we think is really what's going to happen in the end, that's more likely," Behravesh said.
"But if we have protectionist populism, that could be a disaster for the US, China and many parts of the world. That's a recession scenario."
Messages from the Mountains
The shuttle buses that take WEF delegates around Davos are a great place to grab a quick word with people and gauge the mood of the forum. The Euronews team always spends a little time during the forum on the bus, chatting with delegates!
This year, Sarah Chappell was asking delegates about their hopes for the world in 2017. Here is a pick of some of their views.
When asked what he hoped and feared the most for the world this year, Rosan Roeslani, Chairman of the Indonesian Chamber of Commerce, took the long view, saying: "There's always a cycle in life – ups and downs. But I think we need to always feel optimistic, looking forward."
Anat Bar-Gera, Chairwoman at Cyverse and a board member at UNICEF in Switzerland, had a strong message of hope: "I very much hope that this part of the world – the leaders, the privileged, the rich – will be able this year to include, take care, and solve the problems of the other part of the world. Of the refugees, of the people who come across the seas, and of the kids of Syria – all of those problems that haven't been solved yet, unfortunately."
Meanwhile, Davos veteran Dhruv Sawhney, Chairman of Triveni Turbine Ltd., put forward the view that it was time to stop trying to forecast and predict the future, saying: "We've had hopes every year at Davos – they've never come right, and I've been coming here now for 25 years.
"Two to three years ago we never knew that (Indian) Prime Minister Modi would come, that Brexit would happen, or that President-elect (Donald) Trump will happen. So, forecasting in Davos is not a very easy thing!"
And, finally…
Brrrrr… very cold at Davos this year! A behind the scenes snap of tireless Euronews cameraman Mathieu Rocher and production coordinator Celine Guillermin.
At Davos #WEF17 filming in minus 20!!!! euronews</a> arghhhhhhh!! <a href="https://t.co/ie3ZgiZjYI">pic.twitter.com/ie3ZgiZjYI</a></p>&mdash; Isabelle Kumar (Isabelle_kumar) January 16, 2017