Russia and Turkey 'join forces' to bomb ISIL in Syria
Comments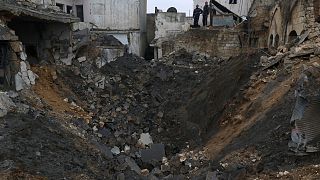 Russia has said its war planes joined forces with Turkish jets for the first time to target so-called Islamic State militants holding the town of al-Bab in northern Syria.
Russia and Turkey are the main organisers of a new round of Syrian peace talks to take place in Kazakhstan next week. They have set aside their differences over the political fate of President Assad to try to forge a wider deal.
A senior defence ministry official, Lieutenant-General Sergei Rudskoi, said nine Russian jets and eight Turkish war planes had been involved. He added that initial results showed the strikes were highly effective in hitting their targets.
The Russians say the joint mission was conducted in agreement with the Syrian government.
Moscow also says its air force provided air support to Syrian government troops trying to fight off an ISIL assault around the town of Deir al-Zor. Russia fears a massacre of civilians if the town is taken.
According to the defence ministry, Russian jets are also helping a Syrian government offensive near Palmyra. It claims to have received information that militants are planning to blow up more of the ancient city's historical monuments.