Political crisis in Gambia triggers exodus
Comments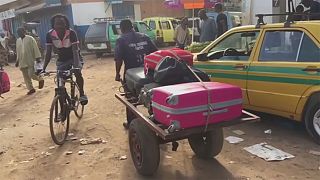 Thousands of people are leaving Gambia fearing an outbreak of violence as President Yahya Jammeh continues to refuse to step down despite losing an election in December.
Hundreds have already fled to neighbouring Senegal where president-elect Adama Barrow has been told to stay for his own safety.
On Tuesday (January 17) President Jammeh declared a state of emergency. Although he initially accepted the election result he's now claiming it was rigged and mounting a legal challenge.
Since the election Jammeh has become increasingly isolated at home and abroad, and West African leaders have threatened to intervene militarily if he doesn't stand down.
The inauguration of Adama Barrow is scheduled for Thursday but there have been few signs of preparation.
His aides say he's not intimidated by the state of emergency and that he will return for his swearing-in.
Background
Jammeh took power in a coup in 1994 as only the second president since Gambia's independence in 1965 and his government gained a reputation for torturing and killing perceived opponents, rights groups say. In 2015, he declared that the country was an Islamic Republic.
In the December polls,Adama Barrow won 43.3% of the vote compared with Yahya Jammeh's 39.6%. A third candidate, Mama Kandeh, got 17.1%.
Gambia, one of the smallest countries in Africa, relies on tourism and one main crop, peanuts, to fuel its economy.
Travel warning
Hundreds of British tourists are to be flown back from Gambia by Thomas Cook after Britain's Foreign Office warned "the potential for military intervention and civil disturbance is high" in the west African nation.
The travel company said it would fly out a special assistance team to help UK holidaymakers leave the country and would operate additional flights from the capital Banjul.
The Foreign and Commonwealth Office has urged Britons to avoid all but essential travel to the country.
The Foreign and Commonwealth Office advise against all but essential travel to The Gambia. https://t.co/KGBL99hBpcpic.twitter.com/KR8qaPuEpv

— UK In The Gambia (@uk_gambia) January 17, 2017