Iraqi army and allies take control of eastern Mosul
Comments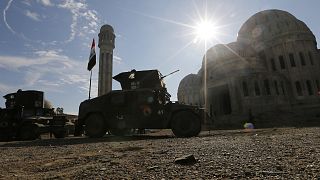 The Iraqi army has gained control of the east of Mosul after an offensive which began last October, more than two years after jihadists declared a caliphate in the city.
Lt. Gen. Talib Shaghati is the head of Iraqi counter-terrorism forces: "The east side of Mosul, including the most important areas, are under our control. The information we have about the operation in the north and south, is that the Iraqi forces have also finished their duties, but there still remain small places to be fully controlled."
This image will taunt me forever. Mosul University's main library set ablaze by ISIS. pic.twitter.com/Hvuj9gUqyW

— Rasha Al Aqeedi (@RashaAlAqeedi) January 16, 2017
The Iraqi army and allies are planning to retake the west of Mosul, which could prove difficult as the old city is a warren-like urban labyrinth.
ISIL forces are now concentrated in parts of Mosul west of the Tigris river.
Anti-jihadist forces received a morale boost as the ''Great Mosque of al-Nuri'':https://en.wikipedia.org/wiki/Great_Mosque_of_al-Nuri_%28Mosul%29 is now back under government control.
BREAKING: #Iraq's special forces retook the Al-Zira'i district in #Mosul and the Great Mosque is being cleared. pic.twitter.com/ncvgl6OhRw

— Haidar Sumeri (@IraqiSecurity) January 17, 2017
Mosul residents defied ISIL's cultural destruction by forming a human chain to protect the mosque and the famed leaning minaret.