More than 20 Swiss protesters arrested during Chinese leader's visit
Comments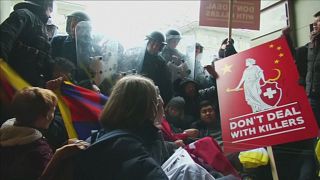 Swiss authorities have kept protesters away from the Chinese President during a state visit to Bern.
Xi Jinping met his Swiss counter-part and he is due to attend the World Economic Forum that opens in Davos this week.
The Chinese leader said he wanted to help work out "mutual solutions for important global problems", saying the world was undergoing "profound and complicated changes, influenced by incalculable and destabilising factors".
Police detained more than two dozen pro-Tibetan protesters in Bern.
Only one demonstration had been authorised by officials on Sunday morning, on condition it ended before the Chinese leader arrived in the city in the afternoon.