Middle East peace: Paris summit to stress support for two-state solution
Comments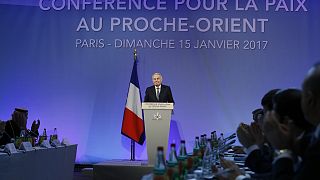 The Paris peace conference is hoping to drive home a message of opposition to Israeli settlements and the establishment of a Palestinian state, just days ahead of Donald Trump's inauguration.
Though it will call on Israel and the Palestinian Authority to re-state their commit to the two-state solution, neither will be represented at the Paris conference.
At the opening France's Foreign Minister Jean-Marc Ayrault said:
"Our collective responsibility is now is to get Israelis and Palestinians back to the negotiation table together. (..) Because only dialogue allows us to achieve the two state solution and to bring peace and security to the Middle East."
He later told France 3 television that Donald Trump's proposal to move the US embassy would be a provocation and would have serious consequences.
It comes after the Palestinian leadership warned that Trump's intention to move the US embassy from Tel Aviv to Jerusalem could spell the end of the two-state solution.
No landmark announcement is expected from the Paris conference, but Palestinians welcome the initiative. PLO member Hanan Ashwari said:
"We believe it is a very positive sign that the international community is willing to engage, and engage positively in order to rescue the two-state solution. We believe this French initiative is one ray of hope in a situation that is extremely bleak and very dangerous."
Israel's prime minister slammed the summit as counterproductive, saying it was 'rigged' to adopt anti-Israel stances.
Meeting with the Pope at the Vatican for the inauguration of the Palestinian embassy to the Holy See, Palestinian leader Abbas reiterated hope about finding a lasting solution and an end to the suffering of the civilian populations.