Soldiers retake key parts of Mosul university but ISIL puts up stiff resistance
Comments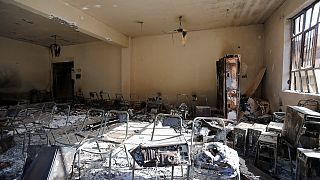 As the battle for control of the main university in Mosul in Iraq intensifies, soldiers have celebrated the arrival of their military commander to the campus.
Troops have managed to retake key parts of the site, but militants are holed up in other buildings, putting up stiff resistance.
The Iraqi army seems to have the upper hand, however, as the offensive to recapture the eastern side of Mosul continues.
Iraqi forces storm Mosul University, making rapid gains against Islamic State: https://t.co/OqNAH5Ffivpic.twitter.com/M3hzEgRjfe

— Reuters Top News (@Reuters) January 13, 2017
The militants are still firmly in control of the western districts of the city they captured in 2014.
But the Iraqi army, backed up by US-led airstrikes, plans a full assault once the eastern side is totally retaken.
The recapture of the university would be a symbolic victory against ISIL, as the militants had been using the buildings as a kind of headquarters.
Mosul university was previously considered to be the country's second most important.
Iraqi commanders say forces have made territorial gains in Mosul in the fight against the Islamic State group. https://t.co/bILIAvckY4

— The Associated Press (@AP) January 14, 2017
Clashes between soldiers and militants have also been filmed in other parts of the city, with the military taking control of the eastern side of four bridges that cross the Tigris river.
Crossing those bridges towards the Western suburbs will be the next phase of the army's offensive.
Iraqi forces now moving quickly in #Mosul, but soon there'll be a whole new battle for the west https://t.co/RL8OlnfVbG

— Loveday Morris (@LovedayM) January 14, 2017
The latest EU_ECHO</a> contribution to <a href="https://twitter.com/UNHCRIraq">UNHCRIraq means we can help more displaced Iraqis ECHO_MiddleEast</a> <a href="https://twitter.com/hashtag/MosulAid?src=hash">#MosulAid</a> <a href="https://twitter.com/hashtag/IDPs?src=hash">#IDPs</a> <a href="https://twitter.com/hashtag/Mosul?src=hash">#Mosul</a> <a href="https://t.co/yuGGPi6dbN">pic.twitter.com/yuGGPi6dbN</a></p>&mdash; UNHCR Iraq (UNHCRIraq) January 13, 2017
Hacker accesses ISIS's radio channel and taunts Abu Bakr al-Baghdadi by saying: 'Mosul will be liberated' https://t.co/KfTwVw67UN

— Daily Mail Online (@MailOnline) January 13, 2017
"My eyes were blindfolded and a judge accused me of posting inflammatory poems on the internet." https://t.co/fNIYW87ZAr#Mosul

— UN Refugee Agency (@Refugees) January 14, 2017