Reports link Syrian president Assad to chemical attacks for the first time, Reuters
Comments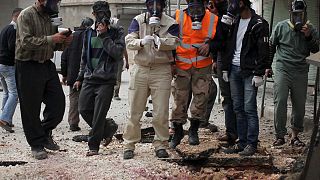 The decision to use chemical weapons in Syria came from the very top, that's according to a document seen by Reuters newsagency.
A list produced by international investigators indicates that Bashar al-Assad and his brother were linked to the decision to use toxic weapons in 2014 and 2015.
The Assads are yet to comment, but a government spokesperson said the accusations had 'no basis in truth'.
The news came as the Turkish president said a united and peaceful Syria was impossible with Assad still in power. Turkish forces are fighting to drive ISIL militants out of a strip of Syrian territory along the Turkish border . The army said it had killed more than 1,500 so-called Islamic State fighters since its Euphrates Shield operation began.
Meanwhile in the capital, Damascus, residents reported hearing several explosions which rocked the city just after midnight on Friday.
The Syrian military accused Israel of launching missiles which hit near a major airport in the west.
In a statement, the Syrian army said the rocket attacks assisted terrorist groups fighting the government and warned of repurcussions.
Israel has not responded to the claims.