'New deal' with mutinous soldiers defuses Ivory Coast tensions
Comments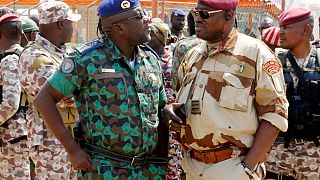 Ivory Coast's Defence Minister Alain-Richard Donwahi pursued talks with mutinous soldiers' leaders on Friday in Bouake, the city where he had been held against his will just a week ago.
Reports quoting their negotiators said an agreement had been reached on bonus payments – but there was no immediate confirmation from the government.
Soldiers said they had received none of the payments they claimed they had been promised under an initial deal last weekend. They were reportedly ready to relaunch their mutiny.
Elsewhere, gunfire broke out at two military camps in the commercial capital Abidjan and renegade troops seized entrances to Korhogo in the north.
They again sealed off Bouake, where the backdrop to the talks brought reports of heavy gunfire outside the venue, and telephone networks shut down in the city.
Ivory Coast's government has failed to reform the army significantly. The military includes soldiers who used to be on opposite sides in the country's previous internal conflicts.
Divisions persist, along with parallel chains of command.