Trump blasts US spy agencies over Russia claims
Comments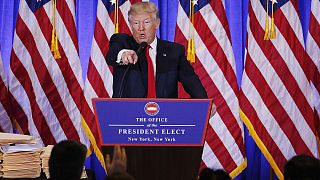 In his first press conference since winning the White House, Donald Trump has blasted America's spy agencies and the media, accusing them of leaking salacious allegations about him.
Accusing them of practices reminiscent of Nazi Germany, the president-elect denied both the claims and that he was vulnerable to blackmail by Russia.
Trump has said the leaks from the intelligence community led to some US media outlets reporting unsubstantiated claims that he was caught in a compromising position in Moscow.
The US' top spy chief James Clapper has said he does not believe the country's intelligence agencies leaked the private security memo containing the allegations.
In a feisty exchange with journalists Trump said:''I think it was disgraceful, disgraceful that the intelligence agencies allowed any information that turned out to be so false and fake out. I think it is a disgrace and I say that, I say that and that is something that Nazi Germany would have done and did do."
Trump also admitted for the first time that Russia was likely responsible for hacking ahead of the US election, but insisted things would change under his watch.
"Russia will have much greater respect for our country when I'm leading it than when other people have led it. You will see that. Russia will respect our country more. But it's not just Russia. Take a look at what's happened. You don't report it the same way. Twenty two million accounts were hacked in this country by China. And that's because we have no defense."
Trump also reserved some of his wrath for neighbour Mexico, making clear it would pay for a border wall.
" We're going to build a wall. I could wait about a year-and-a-half until we finish our negotiations with Mexico, which will start immediately after we get to office, but I don't want to wait. Mexico in some form, and there are many different forms, will reimburse us and they will reimburse us for the cost of the wall."
The much anticipated press briefing had originally been called to show how Trump planned to separate his business interests from his public duties. The US government's top ethics watchdog has criticised the the President-elect's plan to hand over his business empire to his two eldest sons.