Dozens killed in suicide attacks across Afghanistan
Comments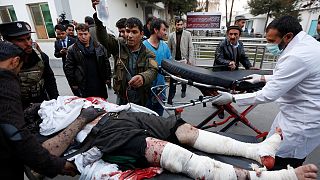 Dozens of people have been killed in Afghanistan in one of the worst outbreaks of violence in recent weeks.
In the capital Kabul, a Taliban suicide attack during rush hour left more than 30 people dead and up to 70 others hurt.
The victims were all security staff travelling on a minibus from Afghanistan's main intelligence agency, the National Directorate of Security (NDS).
It was followed by a car bomb blast which hit security forces attending the scene.
Hours afterwards, at least seven people were killed and 18 others hurt in an explosion in the southern city of Kandahar that centred on the governor's guest-house. The UAE ambassador was among the injured.
A suicide bomber also killed seven people and wounded nine more when he blew up a house used by security staff in Lashkar Gar, the capital of Helmand province.
As well as the Taliban and associated groups, militants pledging loyalty to Islamic State have carried out major attacks in Kabul.
In November more than 30 people were killed by a suicide bomber in a Shi'ite mosque.