Iraqi troops advance on Tigris, as thousands flee Mosul neighbourhoods
Comments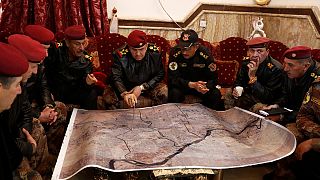 Iraqi troops have pushed to within several hundred metres of the Tigris river that runs through central Mosul.
The US-backed forces launched a major offensive in October to re-take Iraq's second city from ISIL militants. Their advance was slowed by fierce resistance from the extremists.
With military operations underway, thousands of civilians fled the area on buses to an army checkpoint 21 kilometres east of the city.
One man who recently fled the Wahda neighbourhood said the conditions had been unbearable.
"People were starving, there was destruction; people suffered a lot. There are families in Mosul who had barely a scrap to eat. People have nothing left, it is a tragic situation; all the people here experienced it."
Another woman at the camp confirmed, "We suffered a lot, it was difficult to find food; our financial situation was dire. There was no security."
Over 3 million people are displaced in #Iraq. As fighting continues, more risk being displaced every day. pic.twitter.com/OhSd5r2S81

—

ICRC

(@ICRC) January 7, 2017
Aid workers handed out hot meals to the recent arrivals, one helper said they were serving up to 3,000 people per day. It provides a glimpse of the suffering of Iraqis caught up in the conflict.