Shots heard in several Ivory Coast cities as soldiers' uprising spreads
Comments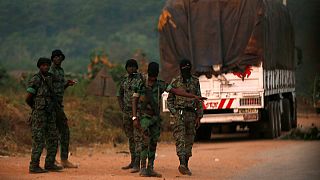 Gunfire has been reported in several cities in Ivory Coast on Saturday, suggesting that an uprising by soldiers protesting over pay and bonuses may be spreading.
Shooting was heard at military bases in the commercial capital Abidjan and the second largest city Bouake, while residents in Man said they were staying indoors after also reporting gunfire.
Similar reports have emerged from the northern city of Korhogo where shooting was heard throughout the night.
The unrest began in Bouake early on Friday when shooting began near the main military camp. The renegade soldiers have controlled the city since taking up positions at key entry points early on Friday. Access has also reportedly been blocked to the cities of Daloa, Daoukro and Odienne.
One soldier was quoted as saying that Saturday's gunfire in Bouake was to deter government forces, after movements considered suspicious were seen outside the camp.
The United Nations is said to have sent troops to the city, where they reportedly waited with others whose path had been blocked. Ivory Coast's army has also sent reinforcements.
However the government says it is prepared to listen to the soldiers' grievances. The Defence Minister Alain-Richard Donwahi said he would go to Bouke on Saturday to talk to the mutineering soldiers.
The minister went on television on Friday night to say a group of soliders had used their weapons to force their way into the city's military headquarters, before making demands over pay, bonuses and other conditions. He called the action "deplorable" but understandable.
Ivory Coast is French-speaking West Africa's largest economy and has emerged from a political crisis in the early years of this century as one of the continent's rising economic stars.
But the previous years of conflict and a failure to reform the army, as well as a mixture of former rebel fighters and government soldiers, have created internal divisions.