Fuel truck blast kills 'dozens' in Syrian city of Azaz
Comments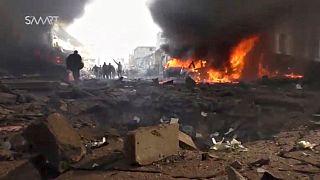 A fuel truck has exploded in the centre of rebel-held town Azaz, near Syria's border with Turkey.
Dozens of people were killed in the blast but sources differ on the death toll. The Syrian Observatory for Human Rights said at least 43 people, mostly civilians, were killed when the tanker blew up in front of a courthouse. Turkey's state-run Anadolu news agency said the count could be as high as 60, with 50 wounded.
Turkey's privately-owned news agency Dogan said a car bomb planted by so-called Islamic State militants was responsible, but there was no immediate claim of responsibility.
It comes after the Turkish military said 21 ISIL militants had been killed in clashes in the past 24 hours.
Those wounded in the attack were taken to hospital in Kilis, across the border in Turkey, where at least 23 people were being treated, according to local media.
Azaz is a major strong-hold of the Turkish-backed Free Syrian Army, an alliance of moderate rebel groups who have pushed ISIL militants out of the border area.
It is the deadliest assault on Azaz, which had been the target of several attacks by ISIL militants.