Netanyahu calls for pardon of convicted soldier
Comments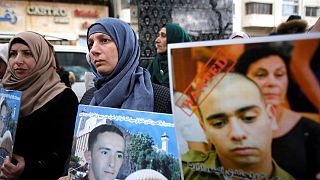 Israel's Prime Minister has joined calls to pardon a soldier convicted of manslaughter for shooting dead a wounded Palestinian.
Benjamin Netanyahu said on social media it was a "difficult and painful day" following the verdict in the court case which has polarised the country.
Sergeant Elor Azaria faces up to 20 years in prison. He is to be sentenced next Sunday. The military court found him guilty, dismissing arguments that he thought the Palestinian posed a danger even though he was lying wounded on the road.
The case has sparked anger. Supporters regard Azaria as a hero while others including top military figures say his actions do not reflect the values of the Israeli Defence Forces.
#Netanyahu shames #Israel calling for pardon for convicted soldier who murdered wounded+unarmed #Palestinianhttps://t.co/lYaUdpUKQj#BDS

— Ronan Tynan (@RonanLTynan) January 4, 2017
'I support pardoning Elor Azaria' posts netanyahu</a><br>following <a href="https://twitter.com/hashtag/Azaria?src=hash">#Azaria</a>&#39;s manslaughter verdict. <a href="https://t.co/6ZPoU16e7K">https://t.co/6ZPoU16e7K</a> <a href="https://t.co/TLYXKgo0d2">pic.twitter.com/TLYXKgo0d2</a></p>&mdash; Ynetnews (ynetnews) January 4, 2017
The incident was captured on video. It took place in Hebron in the occupied West Bank. Last March Azaria was an army medic serving in the Israeli-occupied city of Hebron when two Palestinians carried out the stabbing of an Israeli soldier. Hebron has been a longtime flashpoint of violence, and the incident occurred during a wave of Palestinian street attacks on Israelis.
One of the two assailants was shot dead by troops. The other was shot and wounded. Eleven minutes later, as the wounded man, Abd Elfatah Ashareef aged 21, lay on the ground incapacitated, Azaria shot him in the head with an assault rifle.
The parents of Ashareef said after the court's verdict that Azaria deserves a life sentence for what amounts to the execution of their son.