Search resumes for Indonesia ferry fire victims
Comments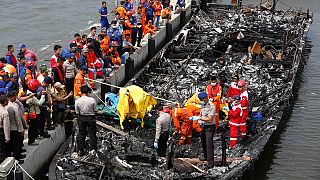 The search has resumed for 17 people reported missing after a ferry fire off the coast of Indonesia.
At least five ships and a number of smaller craft have been deployed in the search, according to officials from the Jakarta Search and Rescue Agency.
At least 23 people died when the "Zahro Express" caught fire.
What happened?
The vessel caught fire on Sunday.
It was on its way from the port of Muara Angke near the capital, Jakarta, to Tidung, a resort island in the Kepulauan Seribu chain.
260 people were on board.
Local media say most of the passengers were Indonesians celebrating the New Year holiday.
What about survivors?
224 people were rescued.
32 are being treated at hospitals in Jakarta, according to officials.
What are the authorities saying?
Indonesia's Minister of Transport, Budi Karya Sumadi, visited survivors at the Gatot Soebroto Hospital.
He apologised for the accident on behalf of the government.
Sumadi also said the port manager at Muara Angke has been removed from his position and is being questioned.
How common are ferry accidents in Indonesia?
They are not unusual.
With more than 17,000 islands, Indonesia is the world's largest archipelagic nation.
Many accidents are blamed on the lax regulation of boat services.