Deadly double bombing at Baghdad market
Comments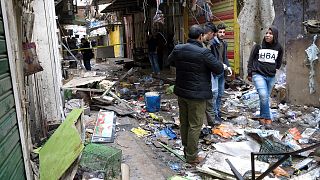 Twin explosions in a busy market in central Baghdad on Saturday killed over 27 people and injured dozens more.
ISIL has claimed responsibility for the blasts that stuck near a car spare parts shop during the morning rush hour. There are conflicting reports about whether one or two suicide bombers were involved.
ISIL regularly targets civilians in the Iraqi capital.
The jihadist group has lost much of the northern and western territory it seized in 2014 and is now resisting an Iraqi offensive on the northern city of Mosul, its last major stronghold in Iraq.
More than 50 people are said to be hurt in this double bombing on New Year's Eve and the death toll is expected to rise.
Photos:

REUTERS

/Ali al-Mashhadani