Europe's police officers gear up for New Year's Eve
Comments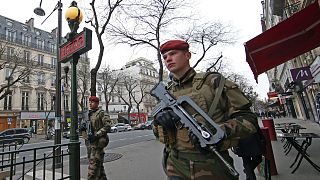 Police and security officials Europe-wide are gearing up for the New Year's Eve celebrations following a year of terror attacks across the continent.
In all locations we have the maximum number of staff.

Berlin Police
Berlin
Two million people are expected in Berlin. Just under two weeks ago, the German capital became the latest city to suffer when a man with links to known Islamists drove a truck into a crowd at a Christmas market, killing 12 people.
Berlin Police spokesperson Thomas Neuendorf outlined the measures.
""Fewer police officers will be able to celebrate on New Year's Eve. Of course, in addition to the extra staff, all departments are manned at a maximum; in police cars, at emergency call centres, in all locations we have the maximum number of staff, which would not be available on other nights," he said.
Paris
Paris, too, has stepped up surveillance. The French capital is preparing to welcome some 600,000 people on the famous Champs Elysées alone. Across France, 96,000 soldiers and police officers will be deployed as authorities warn the terrorist threat remains acute.
Brussels
Brussels will hold its usual firework display amid a heightened security presence.
"I have the feeling that the atmosphere has got a little bit cooler compared to previous years after the events that hit us at the beginning of the year. I think there are fewer people in the streets and it's less festive," one man told the press.
Last year, celebrations were called off in the Belgian capital after Paris was targeted in a string of coordinated and deadly attacks. In March, 2016, Brussels itself was to be hit with three suicide bombings.
Elsewhere
Elsewhere, Madrid, Rome and Milan have also announced plans to step up surveillance and security measures.