Civilians flee eastern Mosul as Iraqi forces battle ISIL
Comments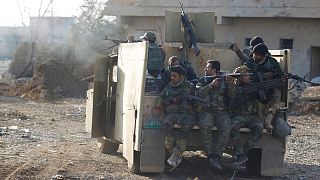 On the third day of the renewed Iraqi offensive to retake Mosul from ISIL militants, scores of civilians have left their homes for safety.
There have been heavy clashes on the southeastern and northern fronts since Iraqi forces launched the second phase of their operation to retake the city on Thursday, after weeks of deadlock.
Residents carried what belongings they could in the east of the city, as the sound of gunfire and explosions echoed in the distance.
The army is backed by the US. It is deploying conventional forces which are said to be visible very close to the front lines.
Amer Mahmoud fled one district with his family as it became engulfed by fighting, to another area already retaken by security forces nearly two months ago.
"There was an exchange of fire in the area where I lived. I lived in the Tahrir district. The Iraqi troops and the militants were fighting. I fled Tahrir all the way here to Kukjali. We only had time to grab our clothes," he said.
US-backed forces have retaken a quarter of Mosul, ISIL's last major stronghold in Iraq, since the offensive began in October.
In the latest drive American airstrikes have helped the Iraqi army gain ground in the east.
But the self-styled Islamic State fighters have put up fierce resistance, and government forces have yet to enter the west of the city.
Iraqi Prime Minister Haider al-Abadi has expressed hope the group will have been driven from the country by April, 2017.
The UN estimates well over 100,000 civilians have been displaced, with 1.5 million still thought to be inside Mosul.
Harrowing. The children of #Mosul talk about the violence they have witnessed https://t.co/VQ5BY3Nbgx via latimes</a></p>&mdash; UNICEF (UNICEF) December 31, 2016
Iraqi forces advance in Mosul as tactics shift https://t.co/PcS7v0RPTN

— Wall Street Journal (@WSJ) December 30, 2016