2017: A busy year ahead for Britain's royals
Comments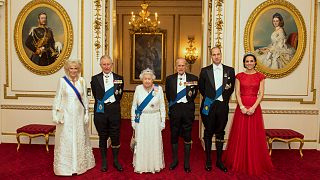 Royal-watchers in the UK and beyond will have plenty to keep them occupied in 2017, with a busy year ahead for Queen Elizabeth and her family.
The main concern as 2016 draws to a close, however, is for the health of Elizabeth, 90, the world's longest-reigning living monarch.
Queen Elizabeth and Prince Philip
Known for her robust constitution, the Queen sparked anxiety by missing a traditional Christmas Day church service for the first time in decades, due to a heavy cold. And until Elizabeth's next appearance in public, concerns are sure to remain over her condition.
As she approaches 91, the Queen has decided to lighten her workload in 2017.
After more than six decades on the throne, she has cut back on international tours and is now handing over 25 patronages to other members of the Royal Family.
Elizabeth remains at the helm of some 600 national organisations, though, and is set to continue a busy schedule of public engagements throughout the year, alongside her husband Prince Philip, 95.
Indeed, British media reported that Philip carried out more public engagements last year than did his grandsons William and Harry, and William's wife Kate.
Prince Philip carried out twice as many days of engagements as Kate last year - and dozens more than William & Harry https://t.co/wEq7UHO1Km

— Rebecca English (@RE_DailyMail) 28 décembre 2016
In November 2017, the couple have a major landmark to celebrate – their 70th wedding anniversary. The event is set to be marked extensively in Britain and the Commonwealth, with thoughts turning back to their big day.
In honor of The Crown recently premiering on Netflix, we take a look back at HM Queen Elizabeth II and Prince Philip's wedding day. pic.twitter.com/uvhIRywhqU

— Harper's Bazaar (@harpersbazaarus) 30 décembre 2016
Charles and Camilla
The number 70 also has a special meaning for Prince Charles, the heir to the throne, and his wife Camilla, the Duchess of Cornwall.
That is because on July 17, Camilla will turn 70. No doubt her husband is planning a special celebration.
"Volunteers can make a world of difference." Message from HRH Duchess of Cornwall: https://t.co/xkSLy8JFKx Chris Jackson/Getty Images© pic.twitter.com/wG1eR4HQoA

— Royal Vol Service (@RoyalVolService) 20 décembre 2016
The couple are increasingly representing the Queen and Duke of Edinburgh abroad and a special photograph issued at the end of 2016 underscores the growing role Charles is set to play in royal events as 2017 gets underway.
First look: As a year of 90th birthday celebrations draw to a close, we would like to share this special photo of The Prince and The Queen. pic.twitter.com/0qfB41c5VG

— Clarence House (@ClarenceHouse) 17 décembre 2016
William and Kate
Prince William, second-in-line to the throne, and his wife Kate, Duchess of Cambridge, are widely forecast to move to London full time in 2017, with reports that Prince George, 3, will attend school in the capital.
Such a move would see Kensington Palace become the family's permanent base.
This would be a big change for George and his little sister Charlotte, who have been used to country living at Kate and William's Anmer Hall residence in Norfolk, eastern England.
Looks like Prince George and Princess Charlotte will be city kids. https://t.co/QPnocRehuV

— ELLE Magazine (US) (@ELLEmagazine) 29 décembre 2016
Amid speculation that a third baby may be on the cards for Kate and William, the two cuties they already have are set to be a page boy and a flower girl at Auntie Pippa's wedding in 2017.
Pippa Middleton, Kate's sister, is due to walk down the aisle with hedge fund millionaire James Matthews in May.
Not long to go! Pippa Middleton and James Matthews have set a wedding date... https://t.co/NdqJ2Fy0kupic.twitter.com/EJxDt46aW0

— HELLO! (@hellomag) 8 décembre 2016
Prince Harry
Speaking of weddings… gossip columns are rife with speculation that Prince Harry could, at last, be ready to settle down. He seems truly smitten with his latest girlfriend, American actress Meghan Markle, and some feel a royal wedding is just what he, and the rest of us, need in 2017.
NEW: Come on Harry, pop the question. Meghan's perfect for you & we all need a good royal wedding to cheer us up. https://t.co/cfgsFii5ohpic.twitter.com/gIH9AlDHlH

— Piers Morgan (@piersmorgan) 15 décembre 2016
Failing that, there is always Harry's charitable endeavours, whether for wounded veterans, children in need in Africa or other worthwhile causes.
Prince Harry set up @Sentebale over a decade ago, with the aim of transforming the lives of some of the world's most vulnerable children. pic.twitter.com/1dA1jt7sYS

— Kensington Palace (@KensingtonRoyal) 19 décembre 2016
For both William and Harry, however, 2017 will mark a poignant milestone. On August 31, it will be exactly 20 years since they lost their mother, Princess Diana, in a car crash in Paris.
Princess Diana with her sons, Princes William and Harry. pic.twitter.com/tREpQC7RLl

— History In Pictures (@HistoryInPix) December 24, 2016