Second man arrested in Berlin truck attack investigation is released
Comments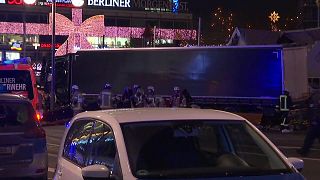 German police have released the second person they had arrested on suspicion of being linked to Anis Amri, the Berlin truck attacker.
A spokeswoman for Germany's chief prosecutor explained why.
"He was detained yesterday because there was suspicion that Anis Amri could have sent him a voice message and a picture via a messenger service shortly before the attack. Further investigation has shown that the detained was not Anis Amri's possible contact person."
The spokeswoman also confirmed that the Scania truck had a braking system installed which stopped further carnage as it was programmed to automatically stop the truck in any collision.
In other developments, Italian police searched three houses in and around Rome which they suspect Amri, a Tunisian migrant, had staying after being released from a detention centre in Sicily.
Italian Prime Minister Paolo Gentiloni said Amri might have been radicalised after arriving in Europe in 2011 – but he had no knowledge of any networks in Italy associated with him.
The Islamic State group has claimed responsibility for the attack on the Christmas market which killed 12 people.
It has also released a video showing Amri pledging allegiance to its leader, Abu Bakr al-Baghdadi.