Iraqi advances made in battle for Mosul, safety of civilians remains chief concern
Comments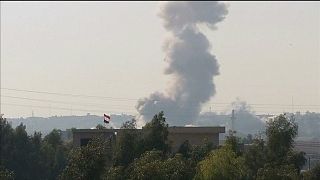 The second phase of the Iraqi offensive to reclaim Mosul from ISIL militants has begun as security forces close in on the extremist-held city from three directions.
The battle for the jihadist's last major stronghold in Iraq has raged since it began in October, and looked to have reached a stalemate before advances were made in the city's eastern districts.
Iraqi forces have launched the second phase of Mosul offensive against Islamic State: https://t.co/jlBBUEWF2Dpic.twitter.com/laPSfNbmBX

— Reuters Top News (@Reuters) December 29, 2016
As the largest ground operation since the 2003 US-led invasion of Iraq continues,civilians trapped and displaced by fighting remain the chief concern.
One spoke of a "tragic" situation unfolding for those unable to escape the bloody fighting.
"ISIL destroyed our lives," he said. "There is no life in Mosul, no fuel, no food, there is nothing left."
Breaking
Iraqi Army dig graves of Sunnis ppl ,come out dead & dragged their bodies in Street
sectarian government #Mosul#Warcrimes#IRAQpic.twitter.com/0H25VEJJbb

— #IRAQ شمرية العراق (@moonnor27) December 29, 2016
Another civilian spoke of the destruction and death caused by the fierce battle.
"Three houses in our neighbourhood were destroyed after they were hit by mortars, three people were killed," he said.
"One of my children was injured by mortar blasts. We left our cars and our house behind us. All we have left is the clothes on our backs."
Some one hundred and twenty thousand have fled Mosul since the operation began in October.
Aid organisations have warned that Iraq is on the verge of an unparalleled humanitarian crisis, as the city's residents wait in camps to see what will become of their home.