Where did the Berlin truck attacker go?
Comments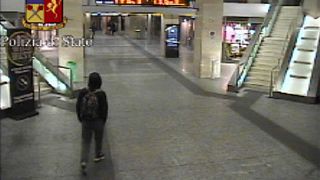 Police across Europe are piecing together the movements of Anis Amri, the Tunisian man who killed 12 people in last week's Berlin truck attack.
Meanwhile German police have arrested a 40 year old Tunisian man in Berlin in connection with the attack.
According to Italian investigators, after fleeing Berlin, Amri travelled through The Netherlands.
The Italians also said they found two unused SIM cards in Amri's backpack, which had been distributed free of charge in the malls of three Dutch cities.
And the Dutch police have said it's very likely that Amri was filmed in Nimwegen, one of those cities near to the German border.
Investigators want to find out whether Amri had a support network that helped him.
Meanwhile in Poland preliminary findings of the autopsy on the Polish driver found dead in the truck suggest the man may have still been alive when the attack occurred.
Lukasz Urban suffered gunshot and stab wounds and investigators are looking into whether he may have grabbed the truck's steering wheel to end the carnage.