Italian police release CCTV image of suspected Berlin lorry attacker in Milan
Comments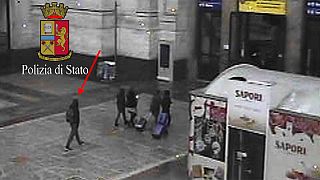 Italian police have released a CCTV image they say is of Anis Amri, the suspected Berlin truck attacker, exiting Milan's central train station.
Captured only hours before the 24-year-old Tunisian was shot dead by two police officers at a metro stop in the northern Italian city, the surveillance footage is another piece in the jigsaw of Amri's last movements.
It follows the recent disclosure that the self-proclaimed ISIL operative travelled through the French cities of Lyon, and Chambery, before heading to Italy.
Authorities continue to face tough questions over how Europe's most wanted man was able to leave the German capital and travel well over a 1000 kilometres on public transport via France before eventually being stopped in Italy.
The pre-Christmas attack on the festive market in Berlin left 12 people dead and nearly 50 others wounded.