Berlin truck attack: Suspect Amri passed through Lyon
Comments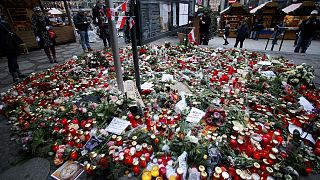 More details are emerging about the journey taken by fugitive Tunisian Anis Amri, 24, the prime suspect in the Berlin truck attack which left 12 people dead.
CCTV footage confirms that he passed through the French city of Lyon's main railway station on his way to northern Italy, where the failed asylum seeker was shot dead by police in Milan in the early hours last Friday.
At Sulmona in southern Italy, Italian President Sergio Mattarella was among those attending the funeral on Monday of expatriate Fabrizia Di Lorenzo, 31, a victim of the Christmas Market massacre.
The bishop leading the service lamented the fact that she had had to leave her home country in order to find work.
Gentiloni recalls Italian killed - Offers 'embrace' to family of Fabrizia Di Lorenzo https://t.co/yFGjpetEum

— Ansa English News (@ansa_english) 23 décembre 2016
"It was very touching but there was also a lot of dignity," said local resident Camilla D'Eramo.
"There was a lot of dignity from the relatives, the parents, the grandmother. It was a painful moment for us all."
"The entire town is close to this family and to all the victims of this event," added fellow local Carlo Iannamorelli.
The first victim was Polish lorry driver Lukasz Urban, whose vehicle was hijacked and used in the December 19 attack.
His body, stabbed and shot, was found in the truck where it is thought he fought to the last to try to regain control.
Calls are being made in Germany for his courage to be acknowledged, with a petition launched for the country to award Urban its highest award for bravery.
Thousands call for Polish lorry driver to be given highest bravery award after 'saving many lives' by fighting… https://t.co/neprO5yerh#ukpic.twitter.com/2bIZNqvzB1

— London News Now (@londonnewsnow) 24 décembre 2016
Simultaneously, an online crowdfunding campaign started by a British trucker, has raised around 200,000 euros for his widow and son.